Pedro Rodríguez Web
Creating and mantaining a Web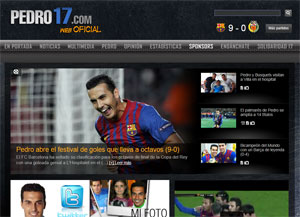 Creation and maintenance of the official website of Pedro Rodriguez, currently plays for FC Barcelona.
The website contains a news context, contents of a general nature, and an exclusive multimedia area with a powerful search engine. Web Pedro17 was created in response to each and every one of the objectives sought by the player.
The arrangement of the sponsors, manageable from the back office system is a care area, and well integrated into the web.
The content is related to social networks, twitter and facebook, includes area where fans can submit their photos with the player.