Official Website Michu
Creating and maintaining the Website "Michu"
Creation and maintenance of the official website of Michu, player revelation of the Premier League, Swansea City team player in this league.
The website contains all the necessary to enjoy every moment of the goals of Michu and his latest news.
The website contains a news context, contents of a general nature, and an exclusive media with a powerful search engine, Michu website has been created to respond to each and every one of the objectives sought by the player. Visible from any mobile device.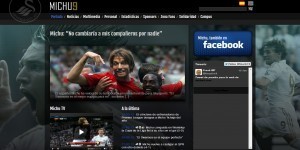 The content is related with the social networks, twitter and facebook, includes as well the fans area where fans can upload pictures with the player.