Confaire
Creating Web System, Admin and PDA Application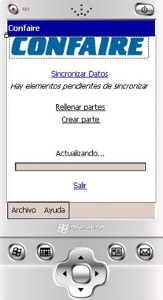 Creating a hybrid system for Confaire, industrial company engaged in the maintenance and installation of heating and air conditioning.
The hybrid system designed consists of two parts. The first part only Web and the other an application on PDAs.
The application from the PDA calculates the time spent on the intervention, it can inform the customer of the amount of the bill by signing up and allowing the customer on the acknowledgment and agreement of the amount.
Synchronization via 3G from the PDA to the server.
Creating reports managed in the application to control working hours, billing and exploitation.