Bodega Santa Cecilia
ECommerce Web Project, Online Shop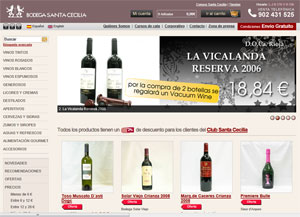 Development of e-commerce web Bodegas Santa Cecilia. Includes online sales, product catalog, retail management and stock management, all reflected on a SAP environment.
Use for the public web environment PHP with MySQL. A very balanced performance and efficiency. Connecting to the SAP system integration SAP Java Connector.

Different design processes and crones to allow information exchange with the SAP environment together with decision making in real time to the WEB.
Integration of payment gateways PayPal, and SERMEPA for credit cards.

In the system of general administration of the web it was incorporated among others, creation of newsletters, automated shipping system and control unsubscribe requests automatically of the bulletins.
Development in the Web management, the ability to view and track the orders, their amounts, and its breakdown products purchased, etc.. Everything you need in case one requires tracking information may be readily accessible information.